Not seeing the home you're looking for, please for more information.
Carefree Real Estate Awaits Discovery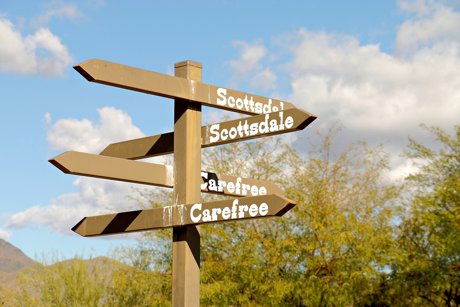 Carefree real estate stays true to it's name with its laid back, desert-rustic charm full of relaxing entertainment and opportunity. With a long list of restaurants, events, gardens and scenic landscape, and resorts worthy of a king, Carefree is an open canvas for anyone's imagination.
Carefree is home to many award winning dining options, including The English Rose Tea Room, a charming victorian-style tea house perfect for any princess (and available for booking!), Alberto's Italian Cuisine, a taste of seaside Italy right in central Arizona, and the iconic Sundial Cafe, which stands across the street from the Carefree Sundial, a well known local landmark. The Carefree Sundial is the largest sundial in the country, and was designed by solar engineer John Yellot. It serves as a meeting point for many residents of Carefree, who often meet there for events, yoga, or even their morning coffees.
Explore Carefree Property to Your Heart's Content
Carefree property offers a wide variety of storefronts that widely support local business and economy! From fine apparel to beauty salons to collectibles and souvenirs, Carefree offers something for everyone in the consumer department. If retail therapy or comfort food isn't your thing, Carefree also has a full list of incredible tourist attractions and resorts available to residents and visitors! For one, the Carefree Desert Gardens enchant their patrons with high profile art festivals and wine tastings, and are also a popular place to reflect and show appreciation for nature. Local artists are often showcased at the gardens, emphasising Carefrees all inclusive community attitude! One signature event is put on by The Thunderbird Artists, and attract many artists both locally and nationally!
Carefree real estate is a wonderful place for a vacation or home, and is home to many different lifestyles and backgrounds. Enjoy the welcoming spirit and experience the Phoenix, Arizona area in a way you never have before - Carefree!